Customer's Gallery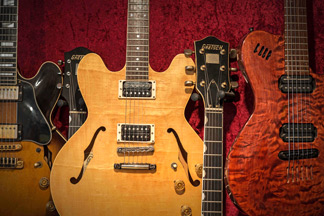 The new gallery is open!

Make yourself a picture of ABM parts in use.

Visit the gallery and be a member of the ABM family if you like. For this just send us a picture of your dream instrument to. We publish it then, if agreed. Read more »

We wish you an enjoyable visit to our sites.
Passion & Precision
ABM produce guitar components in Germany.

We are one of the few manufactures worldwide, that mill products of high grade metals from sonic und functional belief.

The effort is enormous, but the final result is uncompromising high-end guitar hardware. You can learn a lot about our action in the chapter "About ABM". Read more »

Where does the difference between die-cast products and the high-quality milled ABM components is actually hidden? Read more »

In our support section you find technical drawings. So you plan in advance your instrument better. Read more »

Or find out a little about the history of ABM and get friends & busniess partner of ABM know.
Read more »